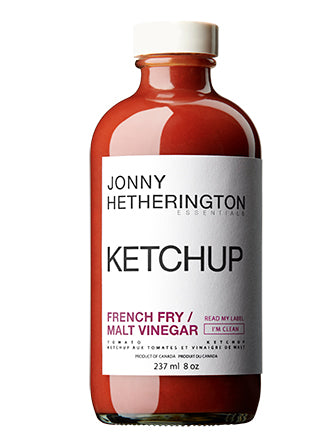 French Fry / Malt Vinegar Ketchup
It's about bright and zesty flavour. It's about 1/2 the sugar. 
Dousing your fries with Malt Vinegar makes them soggy. Solution: Malt Vinegar in the Ketchup! This rich Ketchup screams umami and keeps your fries crispy. (Jonny's favourite!) 
Tasting Notes: Rich, Malt-like,, Umami
Pairs With: Fries… duh! 
INGREDIENTS: FRESH TOMATOES, TOMATO PASTE, MALT VINEGAR, WHITE VINEGAR, CANE SUGAR, ONIONS, LIME JUICE, SEA SALT, GREEN BELL PEPPERS, SPICES.
Order 8 items and we ship for free. Use code => freeship